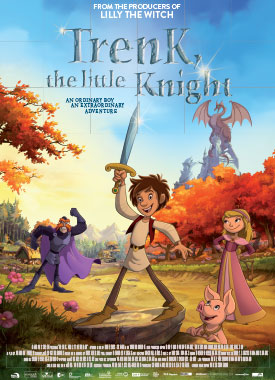 Year

Genre

Spanish Title

Trenk el pequeño caballero

Portuguese Title

Trenk o cavaleiro trapalhão

Director

Anthony Power

Screenwriter

Gerrit Hermans

Production

Corinna Mehner

Duration

1h 15m

Synopsis

A fairytale land in the early Middle Ages has a dragon issue: the Duke announces a tournament to find the best knight who will fight against it. In exchange, the lucky winner will have a wish granted. Meanwhile, 10-year-old Trenk – peasant and property of evil Sir Wertolt – saves his pet piglet from the mean knight, but cannot prevent his father from being thrown into Wertolt's dungeon. Trenk does not hesitate a minute: he must learn to fight so that he can free his family. In the city, he embraces the unique opportunity to swap places with Zink, a cowardly page who doesn't want to fight. Attacked again by Wertolt, Trenk is now saved by young Thekla von Hohenlob, the mistress of Hohenlob Castle. Due to unforeseen circumstances, Trenk has to replace Thekla's father in the tournament. Trenk loses and Wertolt has to defeat the dragon, but it wins hands down. Or nearly: Trenk and Thekla have followed the dragon into the beast's lair, where they are pushed in and locked up by the tirelessly wicked Wertolt. However, during their ordeals, the youngsters discover another side of the dragon that explains its tempestuous behavior...