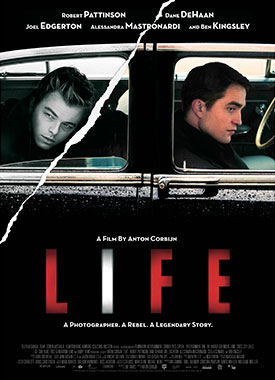 Year

Genre

Cast

Spanish Title

Life, la vida de James Dean

Portuguese Title

Life - Um Retrato de James Dean

Director

Anton Corbijn

Screenwriter

Luke Davies

Duration

111'

Synopsis

Inspired by the now famous Photo-shoot commissioned by LIFE magazine in 1955, LIFE reveals the unlikely friendship between unproven photographer Dennis Stock (Pattinson) and a little-known actor on the cusp of stardom called James Dean (DeHaan).At the time Stock was 26, old before his time and tied down to family life, but anxious to prove himself as an artist. Into his buttoned-down World came rising star James Dean, a free spirit who would change popular culture from suits to jeans and from matinee idols to rebellious teenage hearthrobs. James Dean at 23 had mixed feelings about his impending stardom – the young actor was a frequent no-show at publicity events, famously infuriating Studio boss Jack Warner – yet agreed to invite Stock into his life to share vulnerable and honest family moments. The LIFE assignment, which would ultimately provide the World with some of the most last and iconic images of the age, took the pair on a road trip around the US and created a friendship that would change Stock's life forever.