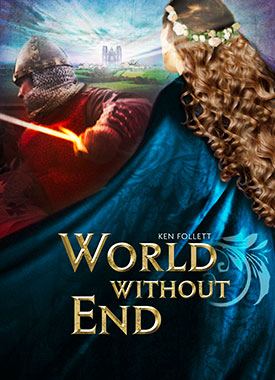 Year

Genre

Cast

Portuguese Title

Mundo Sem Fim

Director

Michael Caton-Jones

Screenwriter

Ken Follett, John Pielmeier

Production

Ridley Scott, Tony Scott

Duration

6h 14min

Episodes

8

Synopsis

A paid assassin is sent to murder a king. A mysterious knight flees to the countryside, hotly pursued by the Queen's men. Two teenagers witness an incident in the woods that will change the course of a nation. In the thriving town of Kingsbridge, the latest marketplace gossip is the strange circumstances of the King's death. The civil war is over, Kingsbridge's economy is robust and merchant coffers are full. All is well in Kingsbridge until the two noble young men bring their wounded knight to the Priory to be doctored. Sir Thomas Langley surprises all by buying his sanctuary in the Church as a humble monk using a dowry from the Queen. What could he possibly have on Queen Isabella to warrant such support? Without warning, Kingsbridge seems suddenly under siege. The Queen's ardent supporter, Sir Roland, marches in and usurps the Earldom of neighboring Shiring, condemning the reigning lord to death as a traitor. Roland's list of men, who supported the old King against Her Majesty is long – and they will all hang. The rest must pay dearly in taxes to support her claim to the French Crown - marking the beginning of the 100 Year War. Caris, a visionary young woman, struggles to rise above the suffering and oppression in order to lead her people out of the dark times. In order to save Kingsbridge, Caris, along with her lover Merthin and Thomas Langley, build a community that stands up to The Crown and The Church. Their courage inspires a nation and throughout Europe commoners and peasants stand up for their rights and revolt against their oppressors - a new age emerges.