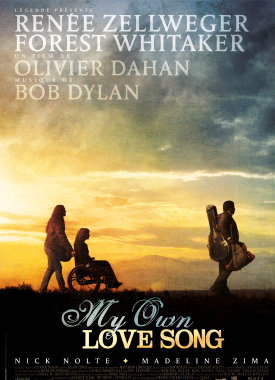 Year

Genre

Cast

Spanish Title

Nuestra canción de amor

Portuguese Title

A Minha Canção de Amor

Duration

120'

Synopsis

Jane (Zellweger) and Joey (Whitaker) couldn't be any more different. She's a matter?of?fact, take charge kind of lady who never needs help from anyone, though she's been paralyzed from the legs down after a bad car accident. He's a lovable odd?ball who turns to angels and ghosts to get by. Behind Jane's tough exterior, though, hides a woman who's also been emotionally paralyzed, incapable of confronting her former life as a singer and mother. Joey convinces Jane to embark on a cross?country road trip, where they stumble upon one hilarious disaster after another. When Joey finds out her son invited his mother to his first communion after all these years, he refuses to let her continue hiding from life. The journey takes an unexpected turn, and its destination becomes a poignant reunion with her long?lost son, where she's finally able to sing the love song she's been writing in her head for years.