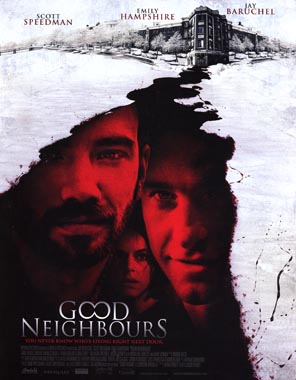 Year

Genre

Cast

Spanish Title

Buenos Vecinos

Portuguese Title

O suspeito mora ao lado

Director

Jacob Tierney

Screenwriter

Chrystine Brouillet (novel), Jacob Tierney (written by)

Production

Kevin Tierney

Duration

99 min

Synopsis

Louise (Emily Hampshire) and Spencer (Scott Speedman) live in the same apartment complex in Notre Dame de Grace, a small, usually peaceful Montreal neighborhood where a serial killer is on the loose. Spencer moved in after losing his wife and the ability to walk in a tragic car accident. He stays home most days in his wheelchair, while Louise works as a waitress at a nearby Chinese restaurant. When shy and eager-to-please Victor (Jay Baruchel) moves into the building, he is a ray of light for the edgy inhabitants; striking up a friendship with Louise and Spencer. But one night, Victor spots someone walking in the courtyard who, in the moonlight, looks very much like Spencer - could he be the killer the community fears? When Louise and a very-much-walking Spencer come face to face in the courtyard late one night, both with blood on their hands, they can only wonder which of the three of them might be the next victim.